My ABC of Canberra – Canberra Times 18th June 2013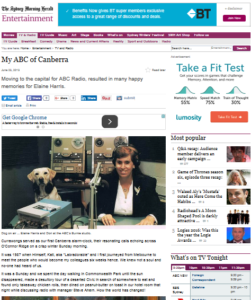 My ABC of Canberra – Canberra Times 18th June 2013
Elaine was based in Melbourne working freelance in radio, TV and print when the call came from the ABC. She spent 9 years working for Radio Station 666 ABC Canberra. Adored the work, the fantastic community and the life style. Elaine wrote this piece to commemorate the Canberra Centenary.
Meet Jackie French – Wellbeing Magazine 10th November 2015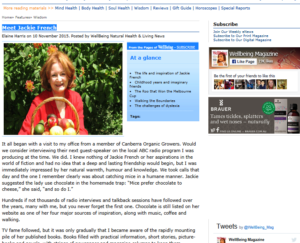 This article was commissioned by Wellbeing Magazine in honour of Jackie French's two years as Australian Children's Laureate. Jackie is a passionate advocate for the power literacy and love reading. As a person with dyslexia and a multi-award winning author she is a wonderful role model for children and readers everywhere.
Interview with Best Selling Author Matthew Reilly – ABC Radio Tasmania 15th March 2012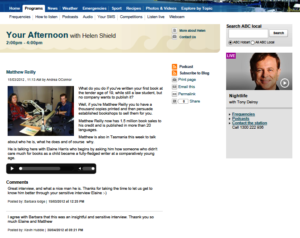 Matthew wrote his first book at 19 while still a law student and by 2012 had sold more than 1.5 million books published in more than 20 languages.
He talked with Elaine after morning answering students' questions. This was Matthew's first public appearance after the death of his beloved wife the previous year.
High Tea with Miriam (Margolyes) – ABC Radio Tasmania 20th March 2012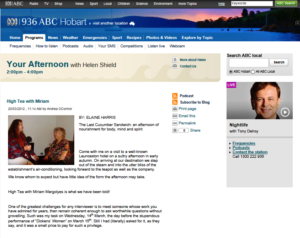 I have attended many press calls but none likes this one. High with Tea with Miriam Margolyes was exactly what occurred: Fine China, Earl Grey, cucumber sandwiches and other tempting delicacies. She was gloriously entertaining, in fine form and fully in control.
Later I had the privilege of getting to know her as we discussed books and reading in her hotel room. Miriam spent the entire interview cuddling my Guide dog Rosi (who can blame her).
Animal Welfare: everybody's business – ABC Radio Tasmania 21st Jan 2013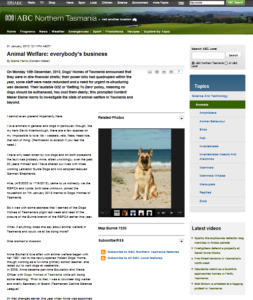 On Monday 10th December, 2012, Dogs' Homes of Tasmania announced that they were in dire financial straits; their power bills had quadrupled within the year, some staff were made redundant and a need for urgent re-structuring was declared.
Their laudable G2Z or 'Getting To Zero' policy, meaning no dogs should be euthanased, has cost them dearly; this prompted Content Maker Elaine Harris to investigate the state of animal welfare in Tasmania and beyond.
Much more than just point and click! The photographer's art – 10th May 2012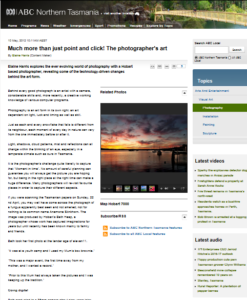 Beth Heap's passion for seizing that elusive image, preserving that unique moment when light and shadow are in harmony, shines through her work. She has made a speciality of photographing fungi and orchids, life forms which are oft short lived and require great dedication to capture in their full glory. She can see some of Beth's amazing work in "A Field Guide to Tasmanian Fungi" or by simply googling Beth Heap Tasmania.