The Wonderful World of Dogs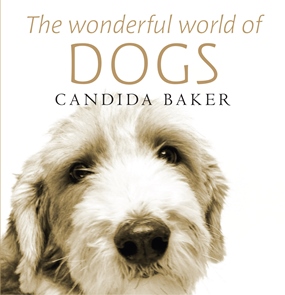 True stories, personal anecdotes, quotes, and poems celebrate the many wonderful ways our canine friends warm our lives
Funny, sad, warm, and wise, this collection of 100 remarkable true stories from around the globe will capture the heart of any dog lover with its demonstrations of canines' loyalty, wicked sense of humour, and endless appetite for adventure and mischief—and food. Tiny dogs, big dogs, shaggy dogs, smooth dogs, naughty dogs, good dogs, brave dogs, silly dogs, guide dogs, therapy dogs, and even a dog who is an honorary U.S. Army sergeant—man's best friend comes in all shapes, sizes, and temperaments. In this beautifully illustrated little book, those who are lucky enough to be owned by a dog share moving stories about the love, loyalty, and at times extraordinary bravery, courage, and acts of sacrifice they have witnessed from the dogs in their lives.
Stories by Elaine: Mutual Rescue; Renewal, Not Replacement; Guilty as Charged
The Amazing Life of Cats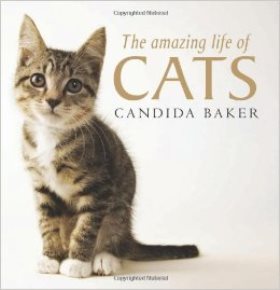 Stories of feline antics, extraordinary abilities, and interactions with their humans make this collection a must-have for cat lovers everywhere
"If you want to know the character of a man, find out what his cat thinks of him."  —Anonymous
Humanity has worshipped cats in one form or another for thousands of years. This rich collection of true cat stories celebrates many tiny miracles and heart-warming moments, as well as feats of extraordinary mischief, courage, and sacrifice. Few animals make their presence felt in our lives the way cats do. Even those who know cats are still awed by their daring and determination, their fearlessness and curiosity, and their astonishing powers of persuasion that ensure they almost always get what they want. This is the perfect book for anyone whose life has been enriched by one or more feline friends.
Stories by Elaine: Reigning Cats and Dogs; Chalk and Cheese – Only a Mother Could Love Them
Two Plus Four Equals One
Celebrating the Partnership of People with Disabilities and Their Assistance Dogs
True, vibrant, honest, and emotional, eliciting compassion, joy, sorrow, and love, promoting understanding, acceptance, awareness, and hope. Here are over 100 stories and poems written by or about men, women, and children, all either with disabilities or connected to people who have disabilities. Joining them are Labradors, German Shepherds, Poodles, Papillons, Goldens, Shelties, Chihuahuas, and many other breeds, all trained to assist their disabled handlers. From blindness to deafness, from mobility issues to psychiatric needs, from diabetes to autism, the array of disabilities showcased in this unforgettable book is as vast as the tasks performed by the canine partners. Your eyes will be opened to the strength, competence, and potential of both the human and canine participants in an alliance where neither partner is perfect but both together add up to an equation where two hands/feet/eyes/ears plus four paws equals one magical union.
Story by Elaine: Another Country
Grow: Under The Southern Cross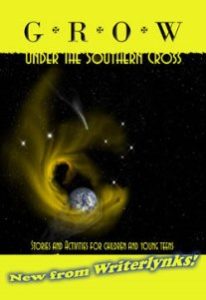 Stories and Activities for Children and Young Teens.
This collection of poems and stories for 8-14 year olds should be a must for every library or school. They're the kind of poems and stories children will enjoy. Parents too will find plenty to read to or with their children.
GROW - Under the Southern Cross contains a number of poems and stories by award winning authors and well known names in the children's writing scene, among them Elizabeth Fensham, Roseanne Hawke and Andrew Lansdown, as well as a number of other authors we're sure to hear more of.
There are stories that send a shiver up the spine like Shadows of the Night. Others are based on a true story or show relationships between family, like Desert Mermaid, Spoken Word or Curing Cousin George. Some have a historical slant.
Story by Elaine (under the pseudonym of Elizabeth Knight): Spoken Word
Celebrate! The End of Year Reciter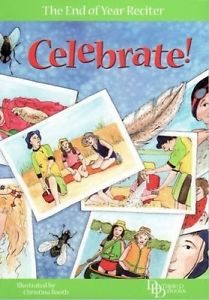 Celebrate! The End of Year Reciter
The Reciter series embraces the works of Australian poets whose imaginations find joy in original view of our world.  
Breaking up day! Raise a cheer! Christmas time is almost here!
For all of those performers, teachers, families and friends who know we don't have snow and sleighbells in December, here is THE book of poems.
Here are Australian poems by Australian authors – poems that sizzle with the heat and fun of summer – that give thanks for sun and sand and holidays – that embrace the Nativity story and Santa Claus – that laugh with and at family and pets and pests.
You cannot have your end of the year concert without Celebrate!
Story by Elaine: Ghost Notes